PLEASE READ FAQ, PURCHASING GUIDE & SHIPPING POLICY PAGES BEFORE MAKING YOUR PURCHASE.
---
PURCHASING GUIDE
This page was added with the best intentions to clarify things and make the purchasing process easier for some of you to understand.
Please read the following info thoroughly before making your purchase.
---
WHEN YOU CHECKOUT:
My website employs the 'One Page Checkout' system.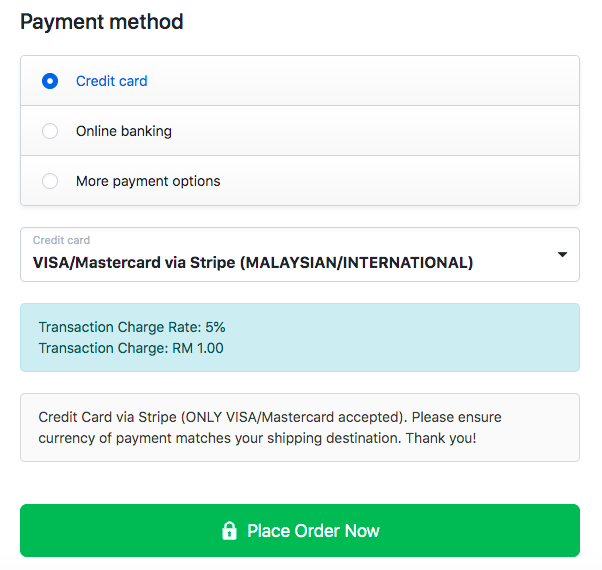 PAYMENT METHODS AVAILABLE:
Manual Bank Transfer/QRPay (Malaysian)
*VISA/Mastercard via Stripe (Malaysian/International) [5% + RM1 transaction fee]

*Stripe payment gateway shows several supported cards but Stripe Malaysia can only receive card payment from VISA & Mastercard.

Paypal (Malaysian/International) [9% transaction fee]
By clicking 'Place Order Now' at checkout:
The pre-order slots for your order will immediately be reserved for you for 24 hours (for readystock items: 3 hours). Hence these slots will be taken off the website from others to purchase - they will be reserved for you.
You will be redirected to your selected payment gateway (Credit Card via Stripe/ Online Banking/ Paypal) to make payment and complete your purchase.

please note: only VISA/Mastercard is accepted for international Stripe payment to Malaysia. If you use another card, the payment will not go through and your order will still be pending.

You will be sent an order notification email with the details of your reserved order. As soon as you complete successful payment, you will be sent another email titled 'Payment Success' which details your order confirmation.
If you aren't sure you want to purchase, please do not click 'Place Order Now'.
All slots are limited so kindly consider that others may want your slots if you end up not making payment and leaving your purchase incomplete! This is especially important for items that have only 1 available slot left.
All shipping costs and transaction charges are stated clearly in your cart summary at checkout. This info is for you to make your purchasing decision before you proceed to click 'Place Order Now'.
I experience instances very often where a customer places an order with their slots reserved, only to not make payment in the end after waiting 24 hours because they've 'changed their minds'. Only click 'Place Order Now' if you are sure you want to purchase, and intend to continue with payment immediately.
Please remember the human (me! >.<) trying to keep track of all the orders on her website and having to take time to prepare the materials and stock for every order as they come through.
Readystock Policy: Orders will be automatically canceled if payment is not made within 3 hours from the time it was placed.
Pre-order Policy: Orders will be automatically canceled if payment is not made within 24 hours from the time it was placed.
[If you have mistakenly placed an order and reserved item slots, please contact me as soon as possible to cancel the order so I can release the reserved slots back to the public.]
[If you've accidentally lost the checkout page after placing your order, please contact me and I'll email you a link redirecting you to checkout payment gateway once more! Thank you.]
---
CURRENCY SELECTION:

If you are within the website's supported shipping zones, please make sure you select your correct country's currency when you checkout and make your purchase.
E.g. if you are purchasing from the US, please choose USD, etc.
For the most part, prices are a direct conversion from MYR, but there is a mark up that has been set accordingly in each currency on my website. The Malaysian market's purchasing power and the MYR currency value is much lower than the selling market overseas. I recognise that handmade goods are usually sold for higher at the international market rate. Hence this mark up helps me earn a fairer wage for the time and labour spent on my original work; as currently my MYR prices are geared towards the Malaysian audience only.

You may also consider this as a cover for when I pack your parcels with some extra love and care for international handling!

Orders that are paid with currencies that do not match the website's shipping zones will be canceled, and the money returned to you.
For Malaysians overseas who wish to purchase, I will still be charging in the currency that belongs to the shipping destination - kindly select the currency where your shipping destination is set to.
---
*SPECIAL SHIPPING REQUESTS
I can ship worldwide but officially, my website only provides shipping rates to the following countries:
Malaysia, Singapore, Brunei, Thailand, Philippines, S.Korea, Japan, Hong Kong, Australia, New Zealand, United States, Canada, United Kingdom, Switzerland, Germany, France, Italy, Spain, Belgium, Netherlands, Austria, Iceland.
If your country is not included here, I can manually add shipping by special request. Example: let's say you are from Japan and wish to purchase, but my website does not include Japan in its shipping zones or Japanese Yen as a currency. You can make a request from me.
How to make a request:
You can contact me on IG @k.a.l.b.u to request that I manually add Japan (for example) to my website's shipping zones and Japanese Yen as a currency. You can then proceed to the website to make your order.
If you've changed your mind on purchasing, it's completely fine. As a small business I absolutely don't mind adding new shipping zones and supported currencies to my website to enhance its growth!
---
INTERNATIONAL SHIPPING OPTIONS:
I use mainly DHL, Aramex, TNT Express and Fedex for international shipping.
I cannot entertain requests for cheaper shipping.
I hope you understand that international shipping can be costly, especially for small businesses. It is something outside of my control.
I take a lot of time and care to make my pieces, and I prefer knowing that your items are more likely to reach you safely without complications. I also package my international shipping parcels in a way that I hope will make the cost worth it for you (freebies). Therefore I only provide courier options on my website that have proven to be reliable and comes with detailed tracking. The couriers provided on my website are the ones I will be using for peace of mind, for my buyers and for myself.
Thank you for reading!